OROAREZZO shaping jewellery ideas
From May 13th to 16th 2023 Oroarezzo the event dedicated to the excellence of the best Made in Italy goldsmith production, returns for its 42nd edition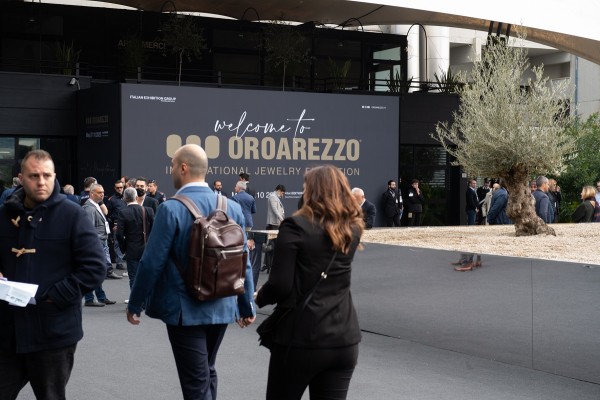 From May 13th to 16th 2023 Oroarezzo the event dedicated to the excellence and mastery of the best Made in Italy goldsmith production, returns for its 42nd edition and enhances its offer presenting itself with an even greater focus on jewellery manufacturing.
"Shaping Jewellery Ideas" the new claim of the Arezzo event where ideas translate into precious creations.
With an exhibition mix focused on goldsmith-jewellery manufacturing excellence, together with semi-finished products, components and tech, the event best responds to the needs of the market by offering the opportunity to define one's own quality supply for the development of unique and private creations label. On the other hand, the cash & carry area is aimed at retailers for ready-to-wear purchases in view of the seasonal replenishment of the shop windows.
A strengthened formula, therefore, for Oroarezzo 2023, the result a the great synergy between the territorial stakeholders of the Arezzo-Siena Chamber of Commerce, Arezzo Fiere e Congressi, the Municipality of Arezzo, the Province of Arezzo and the Tuscany Region.
In preparation for the next edition of Oroarezzo, the incoming program for buyers has also been strengthened which, thanks to the collaboration with ICE - Agency for the promotion abroad and the internationalization of Italian companies and the Ministry of Foreign Affairs and International Cooperation , aims at business matching by looking at consolidated export markets - Eastern Europe, the USA and the Middle East - and going as far as South East Asia and South America.
The appointment is then enriched with new contents. Oroarezzo, in fact, proposes itself as a platform for the world of production, creativity and innovation in goldsmithing, thanks to a program of technical-scientific conferences with sector associations, leading companies, certification bodies and institutions to contribute to the growth of the sector through in-depth analysis of hot topics for the gold and jewellery world.
Finally, Première is back, the historic Oroarezzo competition which rewards the best goldsmith creations conceived and created by exhibiting companies on a chosen theme, focusing the spotlight on the new generations of goldsmiths. In fact, it is enriched with a new category: Talents, reserved for students and young designers under 30. The most beautiful design will be awarded by the jury of operators and experts in the sector, chaired by Beppe Angiolini.