Cutting of the ribbon for OROAREZZO
At the OROAREZZO opening ceremony, Sen. Riccardo Nencini, Vice Minister for Infrastructure and Transport, inaugurated the show today.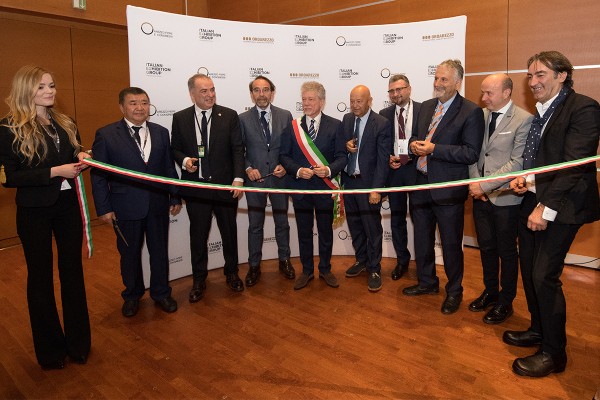 His greetings at the opening event were followed by those of Lorenzo Cagnoni, President of IEG, who underlined the expected recovery of the entire industry, which is already experiencing considerable growth. He also highlighted how OROAREZZO represents a highly important occasion for the over 600 exhibitors and 450 hosted buyers to create relations and do business
The President of Arezzo Fiere e Congressi, Andrea Boldi, wished to thank the entire team that had worked to stage the Show which allows the whole gold jewellery production sector to present itself to the world with the united and joint intention of promoting business and know-how.
The greetings from the President of CCIAA, Andrea Sereni, the Mayor of Arezzo, Alessandro Ghinelli, and Vincenzo Ceccarelli, Councillor for Infrastructure in the Tuscany Region also followed.
The cutting ribbon ceremony at 12 noon officially opened the Show and a round table began immediately after, chaired by Cinzia Malvini, journalist for La 7 TV Channel, with a debate on the status of Made in Italy exports to the United States, with particular attention paid to on-line distribution, and to Hong Kong and China, with focus on promoting jewellery sales in secondary area. In the discussion panel: Andrea Saal – Director of Jewellery Merchandising at QVC, Tanya Chan – Director Oro Art Jewellery Co Ltd, Cristina Squarcialupi - Vice President UNOAERRE, Enrico Peruffo – CEO of Fratelli Bovo Gioielli, Ivana Ciabatti - President Federorafi and last but not least, Beppe Angiolini, Creative Director of OROAREZZO and Honorary President of the Italian Chamber of Buyers.